Electronic Dough Sheeter
Rondo Star 4000

This electronic dough sheeter with its modern control system makes perfect sheeting easy.
The electronic dough sheeter Rondostar 4000 makes it easy for you to produce consistent and regular dough sheets one day after another.
You operate the Rondostar using a colour touchpanel with large symbols. This makes working with the Rondostar very easy.
The Rondostar is made of stainless steel for heavy-duty, continuous use. The display and operating buttons are fitted with special protection.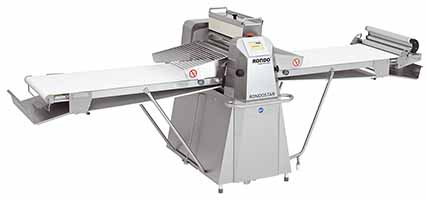 Mechanical Dough Sheeter
Rondomat

The perfect combination of ergonomics, hygiene and performance capability.
The Rondomat is a sturdy construction with modern ergonomic design features that is particularly easy to clean.
Its high performance and working width of up to 650 mm even enable you to feed cutting tables, croissant machines and small pastry lines.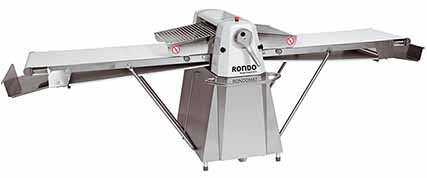 Top Table Dough Sheeter
Econom
Whether as a table model or mobile base model, the Econom is the ideal space-saving dough sheeter for hotels, restaurants, pizza shops,
canteen kitchens and artisanal bakeries.
Dough and Fat Press 

With the Rondopress it is an easy, exertion-free job to shape uniform, rectangular blocks of dough and plates of fat just what you need
for making up perfect dough bands.