Rotary Rack Ovens
V-Series 
A rack oven for professional baking - endless possibilities with maximum capacity and even baking results all over the rack!
The V-Series is a reliable, powerful and safe oven that is easy to use. The series has three basic sizes, with space for up to three racks in the oven chamber.
IBS, Increased Baking Surface System
SD-Touch panel.
Cascad steam system quickly provides powerful and extra clean steam.
Heat and steam are evenly spread quickly within the oven leaving the system with a short recovery period
Powerful insulation
Made of stainless steel both outside and inside the oven. 
Automatic rotation stop for racks.
Effective heat exchange in the oil and gas oven.
Right-hand hinged insulated door with double glazed window and door stop.
Max baking temperature 300°C.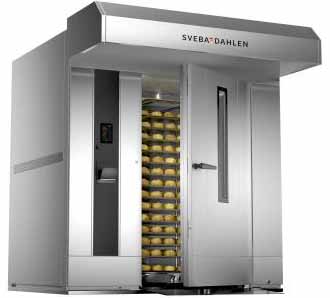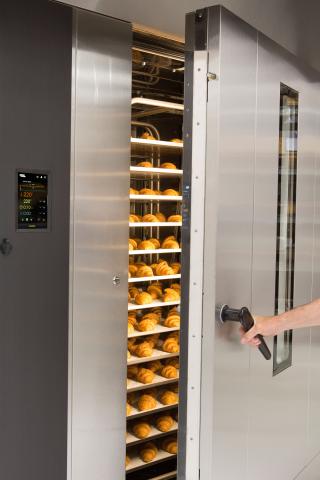 C-Series 
The C-Series is a flexible and user-friendly series of compact rack ovens developed to be highly efficient and designed to fit into small places.
Heating package integrated into the top section.
Equipped with the Increased Baking Surface (IBS).
Allows for quick, even and economical baking.
SD-touch panel.
Large, efficient heating package - flexible production.
Integrated high capacity steam system.
Efficient heat exchange in oil and gas ovens.
Frequency controlled fans which direct the airflow (option).
Adjustable airflow of heat and steam when baking sensitive products such as meringues and macaroons. 
Max baking temperature 300°C.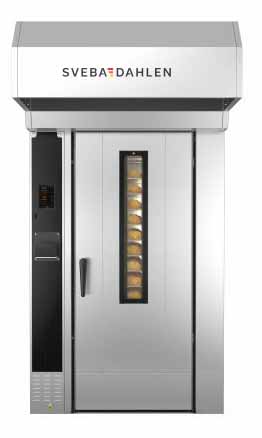 Rotary Mini Rack Oven
S-Series
The S-Series is a small oven with the efficiency and functions of a large oven which makes it perfect as an in-store oven.
All S-series ovens can be equipped with a prover or storage cabinet.
Same good baking results as in a large rack oven. - IBS - alternately rotation.
SD-Touch panel. 
Strong insulation.
Large front window with heat-reflecting double glass and good lighting.
Build-in, high capacity steam system.
Compact under built prover, as well as heat & humidity sensor. 
Max baking temperature 300°C